0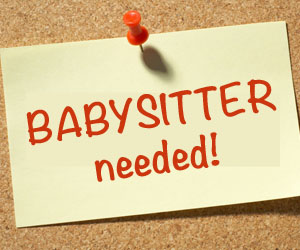 Our Family is looking for a babysitter to help on a regular basis starting in August 2015 but available before that to come and get to know the kids and the routine. Here is some information about our family and the job:
-Job: Looking for a responsible, loving, trust worthy female babysitter.
-Must have experience and references.
-Must be organized and energetic and can take directions well.
-Must be a good driver and have a good record required to sign a no texting contract while driving the kids.
-Regular hours: Generally 2:30-6:30pm Tues/Wed/Thurs (1:45-6:30), occasionally help needed Monday and Friday afternoons from 3-5pm weekend babysitting as needed.
-Kids: there are 4 kids, 12- 6 years old.
-The Kids are in school everyday until about 3pm, and have after school activities most days.
-Generally the care for the children will include getting them to their activities or helping with homework keeping the schedule and very rarely all 4 kids are at home together.
-Helping get dinner going and light housekeeping.
.-pay: $12 per hour
If you are interested please email your resume or contact me with your information and we can set up a time to meet.
August 11, 2015srunyen