0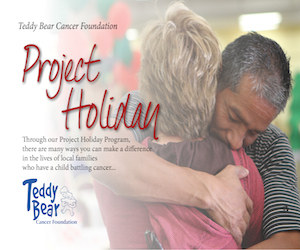 We are very excited to offer you a wonderful opportunity to support our Teddy Bear Cancer Foundation families through our 2015 Project Holiday Programs. We understand the holiday season can be stressful, particularly with a child in treatment for cancer. We would like to make it a little easier this year by creating memories that will last a lifetime and making the holidays a magical time full of fun, laughter, and gifts, both for the child in treatment and their siblings.
Here are the many ways you can make a difference in the lives of local families who have a child battling cancer this holiday season:
SPONSOR A THANKSGIVING MEAL FOR A TBCF FAMILY
Through Project Turkey, you can sponsor a Thanksgiving meal for a TBCF Family by donating a $50 grocery gift card and/or assembling Thanksgiving Day gift baskets filled with yummy Thanksgiving foods. The gift cards and baskets will be given to TBCF Families in need.
Thanksgiving Day Basket Item Ideas:
box of mashed potatoes
box of stuffing
cans/packets of gravy
cans of corn
cans of green beans
cans of cranberry sauce
cans of sweet potatoes/yams
cans of fruit (fruit cocktail/peaches)
mini marshmallows
pumpkin pie
can of whipped cream
hot cider packets
Martinellis sparkling cider
dinner rolls
cookies
*PLEASE NO FROZEN PIES, EGGS OR REFRIGERATED BISCUITS*
IMPORTANT GIFT INFORMATION
Baskets and/or gift cards should be ready for pick-up/delivery by: November 20th
SPONSOR A TBCF CHILD FOR THIS YEARS HOLIDAY PARTY
Sponsor a child battling cancer and their siblings by providing gifts at the $25 value for this years Holiday Party. Each child will have the opportunity to sit on Santas lap and receive their special holiday gift. We have 300 children who need to be sponsored.
INTERESTED IN SPONSORING?
Option # 1
We can send you the first names, first initials of last name, age and gender of however many kids your office, school or friends wish to sponsor, and your employees/classmates/friends can go out and personally purchase $25 gift specifically for a child.
Option # 2
You can host a toy drive and collect $25 toys and gift cards, and our staff will match the gifts to an age appropriate child.
Option # 3
You can make a $25 donation (either via our website at www.teddybearcancerfoundation.org or at your work/school) and we will purchase gifts for the children with your donations.
Holiday Party Underwriting Opportunities
Event Food: $1,500
Entertainment: $450
Decorations: $180
SPONSOR A TBCF FAMILY FOR PROJECT CHRISTMAS
We selected 26 low-moderate income families with a child currently in treatment or newly diagnosed who are not able to financially and emotionally provide Christmas this year because of their new circumstances. These sponsorships allow each child in treatment and their siblings to choose exactly what they want from Santa (gifts valued at $100 and below). We give you their wish lists, and you play Santa by shopping for their gifts. Wrapped
gifts, stuffed stockings, Christmas trees and other little extras will be personally delivered by our very own Holiday
Elves to each childs home.
Project Christmas Individual Sponsorship Opportunities (can be made separately)
Gift Sponsorships: $100 gift per child in family
Christmas Tree Sponsorships: $50 per family
Grocery Gift Card (food sponsorships): $50 per family
IMPORTANT GIFT INFORMATION
Deadline for gift sponsorships: November 10th
Gifts should be ready for pick-up/delivery by: November 20th
All gifts should be labeled with each childs first name, first initial of last name, gender and age
This is a wonderful opportunity to help families less fortunate while bringing a little holiday magic to the season. Thank you so much for your time and interest. If you have any other questions, please dont hesitate to contact Becca Solodon by email at becca@teddybearcancerfoundation.org or phone (805) 563-4785.
November 2, 2015admin