2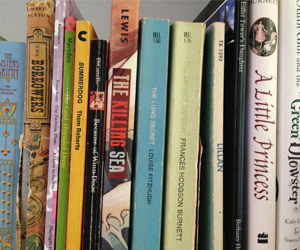 My children love going to our local library. Besides the fun they have, I appreciate the opportunity to mix new books into our rotation with the tried-and-true at home. However, sitting in front of those rows and rows of shelves at the library can be intimidating! The librarians are always helpful, but sometimes its nice to go into the library with a general plan of what Id like us to check out.
I have started bringing my copy of The Read-Aloud Handbook by Jim Trelease. I highly recommend adding this to your collection of parenting books. The first half of the book makes the case for reading out loud to your children often and throughout their childhood. The second half is made up of recommendations for read-aloud books from board books to long, classic chapter books. The recommendations are broken down into genre and organized by age/grade level with a short description (looking for a sports book for a second grader? Hes got it!). Yesterday at the library I bookmarked several of Jims suggestions, found a couple, and brought home some excellent books!
Book suggestions for K-6th grade.Below are some ideas to get you started. Ask your school or local library for other ideas.
K-2 grade Girls:
Amelia Bedelia books
Auntie Claus by Elise Primavera
Charming Opal by Hollie Hobbie
Eloise by Thompson, Kay
Chesters Way by Henkes, Kevin
Swamp Angel by Isaacs, Anne
K-2 grade Boys:
Curious George by H.A. Rey
Dogshow by Elizabeth Winthrop
How I Became a Pirate by Melinda Long
JoJos Flying Side Kick by Brian Pinkney
3-4 grade Girls:
Junie B. Jones by Barbara Park
Charlottes Web by E.B. White
Ramona Quimby series by Beverly Cleary
Because of Winn Dixie
American Girls series
American Girl Series
Sarah, Plain and Tall by MacLachlan, Patricia
3-4 grade Boys:
Captain Underpants by Dav Pilkey
Horrible Harry & the Mud Gremlins by Suzy Kline
5-6 grade Girls:
James & the Giant Peach by Roald Dahl
Charlie & the Chocolate Factory by Roald Dahl
Harry Potter series by J.K. Rowling
Island of the Blue Dolphins
Goosebumps series by R.L. Stine
Nancy Drew series
Out of My Mind by Sharon M. Draper
5-6 grade Boys:
Danny, the Champion of the World by Roald Dahl
James & the Giant Peach by Roald Dahl
Charlie & the Chocolate Factory by Roald Dahl
Harry Potter series by J.K. Rowling
Goosebumps series by R.L. Stine
6-8 grade girls:
Beastly
Counting by 7s
Number the Stars by Lois Lowry
School for Good and Evil
Mockingbird by Kathryn Erskine
Guitar Notes by Mary Amato
Legend by Marie Lu
A Mango-Shaped Space by Wendy Mass
Imperfect Spiral by Debbie Levy
View this BATTLE OF THE BOOKS LIST... it is full of excellent books that are diverse and sure to please everyone.
Banks The Indian in the Cupboard
Blume Superfudge
Bulla The Sword in the Tree
Burnett The Secret Garden
Cleary Ramona the Pest
Clements No Talking
Denzel Boy of the Painted Cave
DiCamillo The Tale of Despereaux
Farley The Black Stallion
Goble The Girl Who Loved Wild Horses
Gutman Honus and Me: A Baseball Card Adventure
Haddix Running Out of Time
Howe Bunnicula
Juster Phantom Tollbooth
Karr The Great Turkey Walk
Kellogg Paul Bunyan
Konigsburg From the Mixed-Up Files of Mrs. Basil E. Frankweiler
Lewis The Lion, the Witch, and the Wardrobe
Naylor Shiloh
Osborne Dinosaurs Before Dark
Park The Kite Fighters
Peck Soup
Riordan The Titans Curse
Sachar Sideways Stories from Wayside School
Shahan Frozen Stiff
Taylor The Trouble with Tuck
Urban Crooked Kind of Perfect
Wardlaw 101 Ways to Bug Your Friends and Enemies
Wilder Farmer Boy
Wise Christopher Mouse: The Tale of a Small Traveler
AND MORE
BirneySeven Wonders of Sassafras Springs
ByarsWantedMud Blossom
ClearyRalph S. Mouse
ColeMagic School Bus: Inside the Earth
CovilleJeremy Thatcher
CreechRuby Holler
DahlCharlie and the Chocolate Factory
DalglieshCourage of Sarah Noble
EricksonOriginal Adventures of Hank the Cowdog
GutmanMillion Dollar Shot
HaddixRunning Out of Time
HanniganIda B
HobbsLast Best Days of Summer
KliseRegarding the Fountain
LaFayeWorth
LobelFabies
LowryAll About Sam
McSwiganSnow Treasure
ODellIsland of the Blue Dolphin
RaskinWesting Game
RawlsSummer of the Monkeys
RiodanLightning Thief
RobinsonBest School Year Ever
RuckmanNight of the Twister
SpeareSign of the Beaver
SperryCall It Courage
TolkienHobbit
WilesEach Little Bird that Sings
WredeDealing With Dragons
YepWhen the Circus Came to Town
MacLachlanSarah, Plain and Tall
PLEASE SHARE YOUR FAVORITEBOOKSBELOW
March 4, 2015pcaja
2 comments
Marygrace

says:

March 6, 2015 at 11:35 am

The kids right now love All About Scabs by Genichiro Yagyu.
my favorite books when I was in grade school were Mrs. Piggle Wiggle. I dont know why but I loved those darn books.

Mary

says:

March 6, 2015 at 4:57 pm

My kids are good readers! They love to read that have read a lot of the favorites books such as Harry Potter, Capitan Underpants, and Island of the blue Dolphins their favorite book!