Summer adventures in SB with young children
11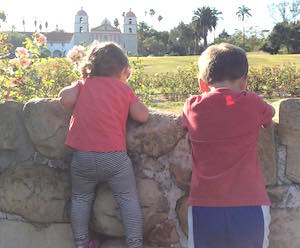 I have lived in the Santa Barbara area since college, and I feel fortunate that I've gotten to experience Santa Barbara living as a young woman, as a young married couple, and now as a mom of two young children. How Santa Barbara looked to me at 19 is so very different than it looked at 29. Can you believe that I once remarked to a friend, "I don't think there are that many parks in Santa Barbara." How little I knew! Now our days are full of little adventures in the nooks and crannies of our beautiful county. We are constantly discovering a new trail or a new place to stop and get cupcakes. I've paired up a couple of fun, off the beaten path adventures to help make the most of your long summer days with your little people!
Carpinteria: From Santa Barbara or Goleta, take the train down to Carpinteria and hop off at the Tomol Interpretive Play area (which includes a replica Chumash village). It's easy to make a day of Carpinteria– great restaurants and Robitaille's Fine Candies.
Downtown: Come to Paseo Nuevo for the ParentClick Playdate, and then cruise up and down State St on the trolley. It's easy (well, easy-ish, depending on how big your stroller is) to hop off and grab a bite to eat.
Goleta: Check out the South Coast Railroad Museum and then walk around Lake Los Carneros. We always find some great wildlife hanging out by the lake! Time it right, and end your walk at Stow House, just in time for Music at the Ranch.
Isla Vista: Pick up cupcakes from Crush Cakes and cruise over to the "Dinosaur Park" for a unique playground experience.
San Roque: Hike through Steven's Park up to the Jesusita Trail (about two miles round trip) then meet enjoy a picnic by the brand new playground or stop by La Cumbre Plaza for lunch.
Waterfront: Visit the Santa Barbara Maritime Museum, then hop aboard Lil Toot to cruise over to Stearns Wharf for an ice cream cone or visit to the candy shop. The SB Maritime Museum offers a free Community Day on the third Thursday of every month. Your kids can also earn a free adult and kid ticket by completing their first 5 books with the Library's Summer Reading Program.
ENTER OUR CONTEST BY SHARING YOUR FAVORITE PLACES TO EXPLORE WITH YOUR CHILDREN… 
What are your favorite spots in Santa Barbara County?
Where do you like to explore?
Do you have a favorite restaurant? Favorite activity? Favorite beach or park?
Where do you like to hike?
SHARE YOUR COMMENTS BELOW…

-

July 8, 2015PCBE