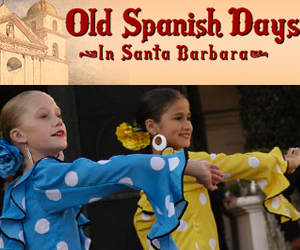 Dedicated to honoring and preserving Santa Barbara's history, spirit, culture, heritage & traditions.
Fiesta originated in 1924 to celebrate Santa Barbara's history and our Spanish and Mexican heritage through pageantry including dancing, parades, and general camaraderie. Part of California and Santa Barbara's rich heritage is the vaqueros, the horsemen and cattle herders of Spanish Mexico who came to California in the 1700s and became the area's first cowboys. The vaquero tradition continues in California and the rest of the United States to this day. The Fiesta Rodeo and Stock Horse Show continues this tradition of celebrating the vaqueros, with generations of cowboys and cowgirls competing, and in more recent years, the addition of the Professional Bull Riders. Fiesta itself has grown into a wonderful family affair, put on for locals and visitors alike, to celebrate the colorful history of this city and state, including vaqueros, folklorico dance, and traditional songs.
SCHEDULE
Old Spanish Days Fiesta – Celebrate Santa Barbara
We invite you to gather your friends and enjoy Fiesta with us. Here are several events you may enjoy:
Fiesta Ranchera, Rancho La Patera – Stow House, Goleta,
Costume Sale, 129 Castillo Street, July 13, 2013, 9:00 a.m. – 1:00 p.m.
Recepción Del Presidente, Double Tree Resort, July 28, 2013, 5:00-10:00 p.m.
La Fiesta Pequeña, Santa Barbara Mission, July 31 2013, 8:00 p.m. FREE
Celebración De Los Dignatarios, Santa Barbara Zoo, August 1, 2013, 5:00-10:00 p.m.
Las Noches De Ronda, Courthouse Sunken Gardens, August 1-3, 2013, 8:00 p.m. FREE
El Desfile Histórico/Parade, Santa Barbara, August 2, 2013, 12:00 Noon FREE
Flor y Canto, Courthouse Sunken Garden, August 2, 2013, 7:00 p.m., FREE
Kiwanis Fiesta Pancake Breakfast – August 3, 2013 – 7am – 12pm
El Desfile De Los Niños/Children's Parade, Santa Barbara, August 3, 2013, 10:00 a.m. FREE
DAILY…
El Mercado de la Guerra; 11:00am–11:00pm – Stroll through a colorful Mexican market (across from City Hall) to feast on Spanish and Mexican-American foods, shop for crafts and souvenirs, and enjoy live entertainment all day and into the early evening.
El Mercado Del Norte; 11:00am–11:00pm – Come for the fun and the food, stay for the music and dancing. Check out our four distinct "neighborhoods" for all the family: the food court where you can watch daily entertainment and enjoy Fiesta foods; the Fiesta Bazaar for souvenirs; Fiesta Carnival with rides and attractions for the kids, and the Crazy Horse Cantina for icy cold beer margaritas and live entertainment in the evening to get you out on the dance floor.
Our Lady of Guadalupe Mercado; 11:00am-9:00pm – Enjoy one of the best traditions of Fiesta. Our lady of Guadalupe Mercado serves up a wide array of authentic Mexican cuisine and entertainment.
June 26, 2014
Fiesta is a great family friendly activity- be sure to hit the Children's Parade on Saturday!
Add Your Review
You have already reviewed this listing.
---