Day Navigation
All Day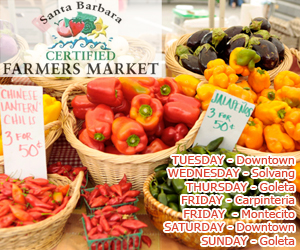 Welcome to the Santa Barbara Farmers Market! The Santa Barbara Certified Farmers Market Association is a non-profit mutual benefit corporation that was founded in 1983 to provide California farmers with direct access at landmark locations to market...
Find out more »
2:30 pm
Westmont's Gaede Institute for the Liberal Arts examines ways a liberal arts education might encourage sustainability and ecological efforts at its 16th annual conference March 23-25. Plenary sessions of the Conversation on the Liberal Arts, "Liberal Arts for...
Find out more »
6:30 pm
Rusty Selix, JD, a mental health advocate and policy expert in California's mental health system for nearly four decades, will be the featured speaker for the March NAMI (National Alliance on Mental Illness) Southern Santa Barbara County meeting, hosted by...
Find out more »
+ Export Day's Events