Events for July 5, 2017
Day Navigation
All Day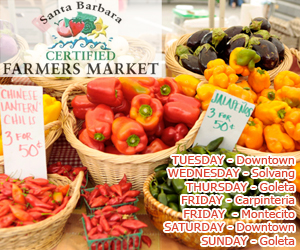 Welcome to the Santa Barbara Farmers Market! The Santa Barbara Certified Farmers Market Association is a non-profit mutual benefit corporation that was founded in 1983 to provide California farmers with direct access at landmark locations to market...
Find out more »
Ongoing
Greetings adventurers and nature-enthusiasts! Do you have a deep affinity for bats? What about a deep fear of them that you think you should overcome? In either case, our event "Going Batty" at the Nature Center would be…
Find out more »
10:00 am
Postpartum Education for Parents (PEP) is a non-profit organization that provides peer support to new parents, free of judgment or solicitation. PEP New Parent Discussion Groups meet weekly and are a great place to get to know other…
Find out more »
The Santa Barbara Museum of Natural History is crawling with excitement as it presents its newest exhibit, Bugs… Outside the Box. Now is your chance to examine all the intricacies of the insect world…without a microscope! From beetles…
Find out more »
Come see THE LEGO BATMAN MOVIE at Paseo Nuevo Theaters! 104 minutes – PG – Warner Bros.
Find out more »
+ Export Day's Events