Holiday gift giving ideas
0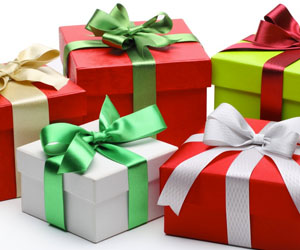 How do you find that perfect gift for kids, parents, teachers? The holidays do not need to just be about spending and extravagant gifts. In lieu of a purchased gift, consider creating new traditions and giving something that might have more meaning…
Make ornaments for family and friends with photos and decorate them. Create an album filled with memories. Write a letter telling each family member what they mean to you. Give a coupon to to do a chore the person hates or for a week of no bed making. A coupon for a night of babysitting for new parents is a wonderful way to give some relief. Make a personalized iPod play list of your favorite music. Make a personal recipe box filled with your favorites and give it to the recipient with homemade cookies. Spend time with your family reading, baking, playing and enjoying each together and give them the gift of "presence".
For the family member that has everything, do something to give back… Make a donation in their name. Adopt a family through a local organizations by providing gifts and a Christmas meal. Volunteer with your family at a local organization.
Before you purchase wrapping paper, look around your house for some new and creative ways to present your gifts. Use your child's art work to wrap gifts or have them paint butcher paper or use fabric scraps. Kids can decorate paper bags with crayons and paints and then seal the bags with fun colored duct tape or ribbon. Make your own gift cards using cardstock, scraps, buttons, ribbons and even the front of some of last year's cards.
Start making a list of who you need to buy gifts for early on. This way when you are out shopping and find something that would make a great gift, you can look at your list and see if it works for anyone. It also helps if you are on a budget to make a note of what you want to spend on each person.
Gift Ideas…
Make a note of those that need to be shipped so that you can get everything off on time without a lot of extra trips to the post office.
Send gift cards to relatives and friends — you will spend less time in lines at the post office and less money on shipping charges.
If you love giving gift certificates but sometimes feel it doesn't look like you put much effort or thought into the gift, make candy, brownies, or cookies to attach to the gift certificate to give it a simple, inexpensive, and personal touch.
Remember to get gift receipts so that people can exchange things at the rate you paid rather than the after Christmas sale prices.
If your kids don't need more toys, why not suggest alternatives to family members:
A museum membership, a series of classes such as ballet, karate or parent-child classes.
Inexpensive wrapping ideas: Instead of purchasing holiday bags and gift wrap, make your own. Use paper bags and brown postal wrapping paper. You can decorate these gifts with raffia, ribbon, and bows or stamp and color them by yourself or with your children. A simple way to include your child in the gift giving process and keep them occupied as you gift wrap is by having them make a simple card or name tag to attach to the gift while you are busy wrapping.
Parent idea:We started buying our kids 3 gifts each. One gift is a practical gift that they would enjoy like extra fun pajamas or a jersey from one of their favorite teams. Then we get them something special and a little bigger than the usual gifts – a playset, bike, LeapPad. Our third gift is something to help them grow – an art or music set, series of classes, something for the LeapPad.
As for the grandparents (the real culprits for making their holidays full of stuff), we ask for something bigger so there aren't a bunch of little things. We also encourage the grandparents to buy them experiences – like music or art classes, a fun trip with them, tickets to a show or swim lessons.
Parent idea: Our first goal is to get the kids to think of someone other than themselves during the holidays. We work hard to make it fun for them to buy things for others. We participate in Operation Christmas Child which sends shoeboxes full of toys and practical goodies to kids in other countries. We also incorporate the kids in buying gifts for other members of the family and experiencing the joy and excitement of giving.
GIVE TO THOSE IN NEED…
Often you hear family members or friends saying "Please don't buy me a gift-I don't need anything." The problem is that these are usually the people to whom you want to express your appreciation.
Consider donating to a special cause in their name.Purchase gifts for children in need. Take a meal to a needy family. You can send your family or friends a letter describing what it is you did. Most people will really appreciate this gesture and you will helping others that really are in need at the same time.
Adopt a Family: You can adopt a family through the Salvation Army by providing gifts and a Christmas meal to them.
Deliver meals to families in need.
Before you decorate for the holidays, work with your kids on cleaning out their toys. You can also clean out your food shelves. Make a box of give away toys and food and deliver them to a local charity. Talk with your kids about good deeds and how Santa watches you and that this is how you can get on the Nice side of the Naughty vs. Nice list. Very fun, Rewarding and helpful to your own cause of cleaning out before the new stuff comes piling in.
November 30, 2015PCTB