Making Their List, Checking It Twice
0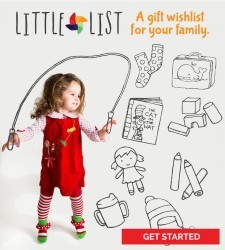 It's holiday gift time! My kids are still young enough that they don't really understand the concept of making a Christmas list, but still, lists need to be made. With grandparents and aunt and uncles living far away, the requests for their Christmas lists start coming around the end of November. I've tried a couple of ways to make their gift lists in the past– I've created Pinterest boards, Amazon wishlists, and registries. But those lists are inevitably followed up with emails that explain some items or reminders of other gifts we are open to.
Enter, Little List…
Little List is a very clever way to organize your child's wishlist. The layout of the site is fresh, modern, and incredibly easy to use. Take a minute or two to fill out the profile ("Does your child prefer trucks, dolls, or both?") and Little List will curate a few quality suggestions based on their age and preferences. You can search their database for toys, books, and art supplies, or add them from another site.
Our lists have a combination of Little List suggestions, Amazon items, and even handmade gifts from Etsy.
Best of all, I can add "experiential" gifts like a family membership to the Zoo or a gift certificate to Cloud 10.
How do you make wishlists? What's the top of your child's list this year?
November 28, 2015PCBE