Celebrating Grandparents Day!
2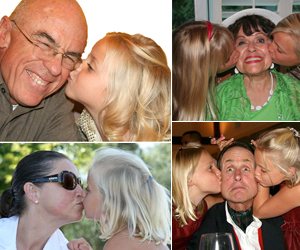 GRANDCHILDREN are a grandparent's link to the future while GRANDPARENTS are a child's link to the past.
Sunday, September 13, 2015 is Grandparents Day! Make sure to take the time to call your grandparents or send a letter.
I have watched my children's relationship with their grandparents grow the past sixteen years and have come to realize that grandparents are a gift. It is such a different relationship than the one they have with me as a parent. Their grandparents are role models and often a source of comfort. They confide in them even when they don't always love their advice but they trust it. Their grandparents spoil them, take them on trips and change the day to day routine.
I have been fortunate to have my own grandparents still living. My Grandparents have always had so many stories to share and it's special for our children to hear them and feel a sense of their family history. My memories with my grandparents are similar to the relationships I observe between my children and their grandparents. I always looked forward to seeing them. They were so much more fun and exciting than my parents. They were a novelty and they always made me feel special.
We recently celebrated my grandfather's 91st birthday and over the past few years, I have observed him go from the patriarch role, taking care of everyone to needing to be cared for. I know he has lived a full and wonderful life but to me he was always invincible. He is now suffering from Alzheimer's and so dependent on everyone else. It is difficult to watch that transition. My grandmother tells me how lonely she feels with so many of their friends having passed away. I have explained to our children that something as simple as a phone call from them or a letter in the mail can brighten up their day. It does not require a lot of effort but reaching out can make such a difference in their day to day lives. Grandparents spoil and love us unconditionally and in turn we need to do the same when the roles being to change.
Because grandparents are usually free to love and guide and befriend the young without having to take daily responsibility for them, they can often reach out past pride and fear of failure and close the space between generations. ~anonymous
SHARE BELOW HOW YOUR FAMILY STAYS CLOSE WITH GRANDPARENTS OR ANY SPECIAL TRADITIONS YOU HAVE…
September 3, 2015PCTB