The Truth about Baby Products
0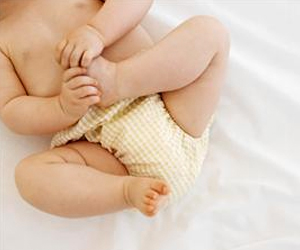 I am a mom who has graduated to the empty nest.  My kids are 27, 24, and 18.  Well, the nest is partially occupied again as the 18 year old is home for the summer.  I am no different from any other mom, just older than most readers of ParentClick.  I walked the halls with sleepless babies, ground my own baby food, tried to juggle nursing and working in an office, and was barfed, pooped, and peed on more often than I want to remember.  Although, I laugh now when I remember holding a newborn straight out in front of me as her dirty cloth diaper dripped all the way to the restroom in Toys R Us.
But there was an unknown menace out there as my children grew, and this was advertising that sucked me in because I wanted to do my best for my kids.  I watched commercials with moms with perfect hair and super clean houses and adorable children hawking shampoos, laundry products, sugar cereals, and Eggo waffles.  I sent my kids to school with Lunchables and sugary granola bars and did not think twice.  Sometimes I just bought what was cheap, other times I bought a brand name product (like skin care or shampoo) because I thought it was worth it or I had a coupon.
Then a year ago I met a woman who sells non-toxic personal care and home products.  She told me about all the harmful chemicals linked to cancer and other diseases that were in these products and said these chemicals were building up in my system.  I thought, no, couldn't be.  Products have to be safe if they are on the shelf, right?  And aren't all those chemicals in such tiny amounts that they don't matter?  Nope, replied my new non-toxic friend.
So I took her info and did my own research at ewg.org.  It turned out that not a single product in my house was free of toxic chemicals.  Not my shampoos, toothpaste, cleaning products, make-up, skin care…  None of it.  I even discovered that babies are born with over 200 toxic chemicals (per tests on cord blood), which shows that these "tiny" doses have accumulated in the mothers.  I am now spreading the word about toxic chemicals because I don't want other parents to use unsafe products on their kids and in their homes.
An example of how the cosmetics industry works (and "cosmetics" as an industry includes anything that goes on your skin, not just makeup), is Johnson's Baby Shampoo and formaldehyde.  For decades Johnson's has been the gold standard of baby shampoos, and was the one I chose when I had my babies (we all want the best, right?).  For decades, this product has had an ingredient (quaternium-15) that releases formaldehyde.  In 2014, in response to the public finding out and being outraged, they took this ingredient out, and called started touting the product as having an "improved formula."  HOWEVER, Johnson's did not take out any of the other harmful ingredients in its baby shampoo!
[READ ARTICLE]  In the article, you will see that these ingredients are still included in the new formula:  PEG-80 Sorbitan Laurate, Cocamidopropyl Betaine, PEG-150 Distearate, Phenoxyethanol, Fragrance, Sodium Benzoate, and Sodium Hydroxide.  Each of these ingredients is considered by the EWG to be hazardous in some way (the ingredients are rated 3 and above).  [READ ARTICLE]  What this tells me is that Johnson's has never been concerned about babies' health, and that if Johnson's got away with this for decades, then other companies are, too. This is just one example.  It has always been about sales, not safety, and we parents have no idea.
So in the store where every other product says "natural," how are we supposed to know?  Look up the products at ewg.org/skindeep.  The Environmental Working Group is an independent watchdog organization that rates the toxic chemicals in products.  If your product is not in the database, search the individual ingredients.  The rating scale is 0-10, with 3 and above being the toxic ratings.  There is even a skindeep phone app where you can scan barcodes at the store. You can also search cleaning products at ewg.org, then click on the link for cleaning products.  The rating scale here is A-F like a report card.  I was very surprised to see many "natural" cleaning products get D and F ratings.
Here are some other helpful resources about this issue:
Story of Cosmetics video:

https://www.youtube.com/watch?v=pfq000AF1i8

10 Americans:

https://www.youtube.com/watch?v=0-kc3AIM_LU

Earth Focus video:
ttps://www.youtube.com/watch?v=jTYXufdDezU#t=330
[ABOUT: Alison Carlson is a consultant with Ava Anderson Non Toxic.  She gives presentations on toxic chemicals, how labels fool consumers, and how to avoid harmful ingredients. (805) 901-1974, avaandersonnontoxic.com/alisoncarlson]

August 4, 2015PCBE