Fashion makeover birthday party
0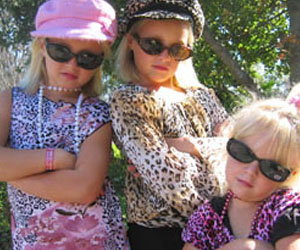 This is a fun way to celebrate a girl's birthday for ages 6-9 years. We did it with our girls and it was a hit! We converted the garage to our staging area.
We got out our girls sports uniforms, old costumes and a few random things from the thrift store so that we had plenty of "looks" to choose from. We wrote all of the different styles on pieces of paper (ie: tennis player, fashion model, cowgirl, etc) and then the girls picked randomly out of a hat so they knew what they would be dressed as for the evening. We invited the parents back at the end of the evening to watch the fashion show and join us for cake and sparkling cider.
Invitation:
Come for a fashion makeover!
Parents can join us for a Fashion Show at 7pm!
Schedule:
4pm-Pick style out of hat
(Sporty, school girl, french model, evening outfits, rapper, pop star, princess, etc.)
5:00 games
5:30 dinner
6pm makeover/rehearse
7:00 fashion show
7:30 cake
Glamour Area:
Hair Station (spray glitter, curls, braids)
Nail Station (decals, nail polish)
Tattoo Station (jewel tattoos)
Make-up Station (eye shadow, blush, lipgloss)
Jewelry Station (necklaces, belts, boas, high heels, slippers, tennis shoes, hats…)
Birthday Banner Craft:
We also had the girls make a birthday banner.
Take a large piece of butcher paper and write "Happy Birthday (your child's name)!" on top.
Then, help the birthday girl lay down on the paper and trace her body. Lay the paper on the floor.
We had crayons, markers, stencils, stickers, glue, glitter, ribbons, colored tissue, scraps of fabric, feathers or buttons for designing an outfit for the birthday girl on the sketch.
The girls all signed it when it was completed.
Games:
Dance,
glamour relay race,
put make-up on moms/dads race
(team of girls who race to adults, pull a make-up item out of bag, apply to our faces. Time limit of 8 minutes to complete our faces.)
limbo contest
Food:
Photo Cookies,
fruit basket,
pizza,
ceasar salad,
cake,
sparkling cider/flutes),
candy
popcorn
Set-up:
The garage was our main area for the glamour stations.
(Make-up station, hair station, nail/manicure station, dressing station, accessory station.)
The family room was set up as our runway.
We did the crafts and food outside.
Photo Station:
We hung a sheet on the wall. I cut stars out of poster paper and covered it with glitter and hung the stars on the sheet.
Th girls stood in front of it and we took a photo of each girl when they were completely done with the hair, costumes and make up.
Fashion Show:
Each girl came out with a partner and they were announced… ("stage name" who recently starred in "favorite movie" with "favorite actor." "Stage name" is up for an oscar for her role in that movie. She is also known for her number one single, "favorite single.)
July 9, 2015PCTB