Preventing Orthodontic Emergencies
0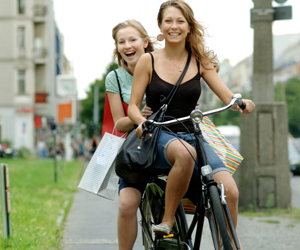 With summer rapidly approaching and all the wonderful camps and activities to choose from, we want to make sure that those in braces and other orthodontic appliances spend this summer making the most of every minute of their fun in the sun, and avoid unnecessary emergency trips to their orthodontist. By following these quick and easy orthodontic care and safety tips, you'll be able to spend more time relaxing and enjoying your summer, and less time worrying about yours and/or your child's orthodontia.
In choosing summertime camps and activities it's also important to set aside some time to create an orthodontic care plan. By having a plan in place, you will minimize the risk of damage to and loss of orthodontic appliances, and reduce the likelihood of emergency orthodontic visits. Just as you would plan what to pack for a summer camp or activity, having an orthodontic care plan in place ahead of time allows you to worry less, and spend more time enjoying yourself.
Below we've listed some ideas that you can incorporate into your own summer orthodontic safety and care plan:
For those in braces:
When participating in contact sports, make sure to wear a mouth guard that will not only protect your teeth and braces, but will also prevent trauma to the lips and cheeks from unshielded contact with braces as a result of a mouth injury.
When riding bikes, skateboards, or scooters, be sure to wear a helmet, in addition to your other protective gear, to protect your head from a fall, and also decrease the chance of injury to your mouth.
Even though you might be tempted to "take a break" from your regular orthodontic care routine and check ups this summer, it's important to maintain your regular oral hygiene routine and orthodontic visits in order to prevent cavities, decay, infections, and to avoid delaying the progress of your treatment.
For camps and activities out of town, make sure you have all the elastics and wax you need to keep you on schedule and comfortable for the duration of the trip.
For removable appliances:
Label your retainer, mouth guard, or aligner case with your Full Name.
Have a designated place to safely store your appliance case so that you always know where to find it.
Whenever you remove your appliance during meals, flossing or brushing, always place it back into its case to avoid accidently throwing your appliance, away and the undesirable task of having to dumpster dive for it later on.
Do not place your retainer in boiling water or leave it in hot areas like a car or in the hot summer sun. Your retainer could warp causing you to have to schedule an emergency appointment to get a new one made.
For sports or activities where your retainer or aligner can get lost or broken, such as skiing, swimming, especially in the ocean, or contact sports, it's best to remove and safely store your retainer or aligner in a cool, dry place. For those playing contact sports, protect your teeth by wearing a sports mouthguard.
If your summer activity or camp involves playing musical instruments, saying a speech, or singing, and you need to remove your retainer, be sure to place it back in its case and put it in your designated safe spot.
Although you may be tempted to wear your retainer or aligner less often during the summer, it's very important to maintain your same retainer wear schedule as prescribed by your orthodontist, in order to avoid delaying the progress of your treatment, or worse having your teeth begin to revert back to their original position.
For all those in both active treatment and retention:
If you do have an orthodontic issue or emergency this summer, let your orthodontist know as soon as you are able, so that he or she can fix the problem, make you comfortable, and have you back to your fun in the sun in no time!
These are just a few tips to get you started on your summer orthodontic care plan. While we understand creating this plan is not as exciting as creating your summer activities schedule, it's definitely worth taking the time to create! Not only will it greatly minimize the risk of damage to, and the loss of orthodontic appliances, but it will also reduce the number of emergency visits to your orthodontist, thus allowing you to spend more time enjoying the fun summer activities you have planned for both you and your family!

If you have any questions regarding orthodontic care and safety, or would like to share your own orthodontic safety tips, please feel free to contact us. We'd love to hear from you!

That's all for now! Enjoy the rest of your spring,  and we'll catch you again this summer with some fun and tasty orthodontic tips!

[AUTHOR: Drs. Edstrom & Trigonis is a leading orthodontic practice that has been serving the Greater Santa Barbara area for over 23 years.]

April 23, 2015admin