Easter Egg Decorating & Filling Eggs
1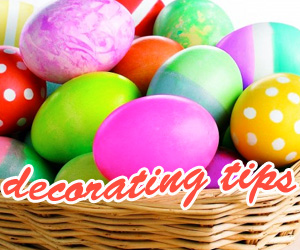 BOILING OR BAKING YOUR EGGS
If you are using a kit, make sure to boil your eggs and let them cool completely before dyeing. Adding a tablespoon of vinegar and a pinch of salt can help prevent eggs from cracking.
Try baking your hard "boiled" eggs…  Heat your oven to 350. Place eggs into a muffin tin (this keeps them from rolling around). Bake the eggs for 25-30 minutes.
DECORATING YOUR EGGS
If you don't find the perfect idea here… Check out PINTEREST!
Liven your eggs up with stickers. Place them on the egg, then dip the egg in dye. Let the egg dry completely before removing the sticker and you will have a fun pattern on your egg.
Chalk art…  Cover your eggs in chalkboard paint and then let the kids decorate them with chalk.
Spotted Eggs… Use Q-tips and water color or paint to draw designs or speckle your eggs.
Rubber Bands… Take rubber bands and twist them around the eggs. Make criss-cross patterns or lines. Then follow egg dying instructions.Once the eggs dry completely, remove the rubber bands to reveal the pattern.
Nail Polish… You can decorate real eggs or plastic eggs. You can simply decorate with nail polish designs OR In a small  bowl add enough water to cover an egg, then add a few drops of nail polish, next dip the egg just enough to cover the egg and then let them dry.
Create natural tones… Select the fruit or vegetable that you would like to use and boil it in a small pot with your eggs with 1/2 Tablespoon of vinegar with some cold water in a saucepan. Add raw eggs (make sure there's enough water to cover the eggs) and bring to boil. Reduce heat and simmer 10 to 15 minutes. The longer you simmer, the darker the color will be, but simmer at least 8 minutes so that the eggs cook thoroughly. For deeper color, allow the eggs to sit in the dye bath for an hour.
Green: spinach
Orange: carrots, paprika
Yellow: lemon skins, chamomile tea, green tea, ground cumin
Blue: blueberries
Blue/Purple: purple cabbage
Pink: cranberries, beets
Violet: mix blueberries with one of the pink berries
Brown: coffee grounds, tea, cocoa powder, onion skins
FUN FILLINGS FOR PLASTIC EGGS
Pastel colored eggs filled with Easter M&Ms… this is such a clear memory from my childhood. We were allowed to eat one "egg" at a time, and I savored each tiny bite of candy. Fast forward to having my own toddler and many, many scheduled Easter Egg Hunts in front of us.
Here are some ideas for filling tiny eggs… Goldfish crackers, Raisins, dried cranberries or blueberries, Puffs or Cheerios, Stickers or temporary tattoos, Coupons, Jokes, Fun erasers, Matchbox cars, Bubbles… While I believe that candy can be a great once-in-a-while treat, I'm trying to be a bit creative with how to fill our eggs.
EASTER BASKETS
Filling Easter baskets does not have to be costly and can be a fun time to get creative with a theme.
For something other than a traditional basket, try a Sand Pail, Purse, Flower Pot, or new Lunch Box.
Fun things that you can put in your 'basket' for older kids, besides those delicious chocolate bunnies, are… iTunes gift cards, movie tickets, nail polish, sunglasses, seeds to plant, hair accessories, a roll of quarters or books or even coupons for goodies (ie: extra screen time during the week, breakfast date before school, etc).
March 31, 2015PCTB