Grandparents overnight checklist
1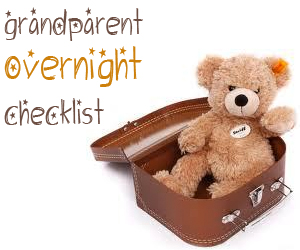 These extras are great to have on hand and mean less packing for the parents when they bring the kids…
Use ParentClick.com when your grandchildren are coming for a visit.
Use the ParentClick.com CALENDAR to plan activities.
Use the ParentClick CLASSIFIEDS or CraigsList to find a high-chair, carseat, or crib so that you are prepared for the baby visits.
Child proof your house with this handy  CHILD PROOF CHECKLIST >
Stock your house with healthy snacks.
STOCK TOYS AND SUPPLIES…
Keep a Rubbermaid container of toys, books, kids, outside toys, videos and art supplies in the garage.
Bring them out when the kids arrive.
It will be a novelty for the kids to have a basket of toys they are not used to and hopefully it will keep them away from the breakables.
Extra carseat, Booster seat (or highchair) for meals that can sit on a chair and fold up compactly-it includes a tray for infants, Pack-n-Play, Baby Gate, Door Knob Covers, Electrical Outlet Covers, Bath mat and/or bath seat, Compact umbrella stroller for walks, Night light, Diapers & wipes & baby food, Diaper changing pad, Baby Monitor
KEEPING KIDS ENTERTAINED…
Have some activities and games on hand to keep the kids busy.
Create a Treasure Hunt,
Camp Out in the family room with sleeping bags and a pizza picnic,
Blow up balloons and play balloon volleyball,
Throw a tea party with stuffed bears, tasty cookies and tea or punch,
Sing & dance to fun music,
Work on a jigsaw puzzle or play card games,
Bake and teach them family recipes,
Keep simple and easy art & craft supplies on hand,
Kids of all ages enjoy a good story whether it is reading from a book or sharing parts of your history
September 1, 2014pcaja