You are what you eat… nutrition tips
0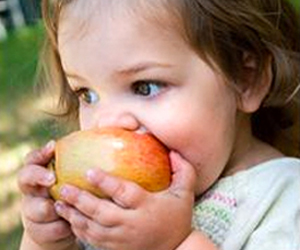 My mom used to tell me, "Danny, you are what you eat." I used to wonder what my friends would think if I turned into a chocolate covered donut? Reflecting on this statement decades later and through the eyes of a pediatrician with two young boys, this statement has never sounded more meaningful.
The eating habits we establish as children really can affect the way we eat as adults and ultimately impact whether we become physically fit or floppy and flabby.
Christina Schmidt, a leading nutrition educator, creator of the acclaimed Baby Bistro Box and fellow San Marcos High alumnus, recently offered me healthy eating tips to share with my patients.
Aim for Organic
Half of our lifetime exposure to pesticides comes in the first five years of life. During this crucial time of development, Ms. Schmidt recommends that parents provide produce that is as pure as possible.
The so-called "dirty dozen" fruits and vegetables most likely to retain pesticides include peaches, apples, sweet bell peppers, celery, nectarines, strawberries, cherries, lettuce, imported grapes, pears, spinach and potatoes.
Start off slowly
When introducing solid foods to your baby, offer one new food at a time. Watch for signs of allergies including dry skin rashes, hives or difficulty breathing. Pay special attention when offering foods that are more likely to cause allergies.
I always recommend that parents avoid introducing allergenic foods such as fish, shellfish, eggs and berries until one year of age and nuts until at least two years of age.
Do it yourself
When parents eat healthy foods, their children are more likely to do the same. Ms. Schmidt recommends taking the whole family to the Farmer's Market to learn about new foods. One tip that has been successful in my practice, especially for those picky eaters, is to let the kids each pick out one new fruit or vegetable. Allow them to help in the preparation and you'll find that they are much more willing to give it a try.
Become a stocker
By stocking your kitchen with healthy snacks, your family is much more likely to reach for something nutritious. Consider having a regular selection of fresh fruits, veggie slices, whole grain cereals, naturally sweetened cookies, yogurts and string cheese/cheese slices. Limiting juices and encouraging water will allow your kids to fill up on healthy whole foods and will make your dentist happy too.
When I get home, there is always a bowl of cut up bell peppers, carrots, snap peas or apples on the table. The kids are always crunching and since it is already out I am more likely to join in.

I can't say that I have always been a healthy eater. When I was stressed and sleep deprived, especially during my medical school and residency years, I used food as a method of comfort and generally chose to eat things that were quick, cheap and tasty. It is surprising that I did not turn into a pizza.

Now that I have some more control over my life and want to set a good example for my patients and my own children, one might expect me to more closely resemble a container of low fat yogurt with granola.

=

Pediatrics in Paradise – Daniel R. Brennan, MD, CLC, FAAP, is a board-certified pediatrician, certified lactation counselor, Santa Barbara native and proud father of three.

February 7, 2014pcaja